In my decluttering (that I'm still failing at, but desperately trying to progress in), I have come across literally hundreds of magazines that we no longer have a need for. Some Loads of them even moved house with us last autumn and have been sat in cupboards/under the bed looking lost and unloved. Certainly more than we could reasonably expect to use in lighting the fire anyway (have you noticed that magazine paper is not exactly wonderful for lighting things - total fail here as we don't read newspapers).
So what do we do with them? Certainly they won't get chucked in the bin! In the PTC household throwing anything away that is at least recyclable, and quite possibly reusable is a deadly sin. The few magazines that have interesting items in have been torn up and the key pages kept in punched pouches (I'll do another post on this at some point), but the rest, well we just aren't interested in anymore. So in an attempt to find a use I've done a little bit of googling and come up with a list.
1. Give the magazine away. See if you have a friend that is interested in the content, or perhaps a GP surgery/dentist/hairdresser. All are in need of a little it of paper to entertain their clients. We have the problem that our science and car (why do we have car magazines?) aren't really appropriate for that sort of audience. So we tried freecycle as well, what school-kid isn't interested in a bit of science?
2. Make quilling strips! Quilling paper is expensive, but nothing could be easier (or more tedious perhaps), than making your own quilling strips. Cut them up with a pair of scissors to the width you want and quill away. Alternatively, put them through a straight-cut shredder (not the fancy kind that cross shreds!). You won't have lovely neat edges but you will get strips really quickly.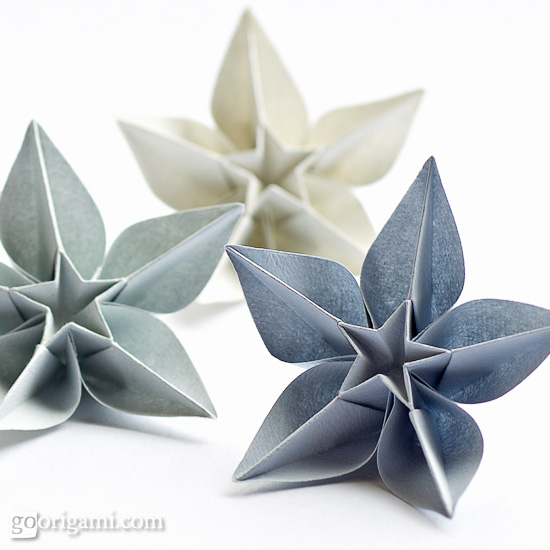 More paper decorations - try magazine-origami.
3. Make a scrap book. Cut up all your favourite pictures/tidbits from the magazine and scrap scrap away! That way you don't loose the content you are interested in, but you don't have to wade through an entire magazine, that to be honest you will never do, to find the one item that really interests you!
4. Make decorations. This couldn't be easier; cut strips/shapes in all the colours of the rainbow from your vast collection of magazines and be inspired. Pinterest of course is full of inspiration, just search for hand made paper decorations. The limit is endless. Try origami or just good old fashion play around!
5. Use to line envelopes - or indeed make envelopes! For an envelope tutorial visit frugalliving.
7. Wrap presents. Oh the options for this are endless. Black and white pages look classic, but the colourful just look fabulous!
8. Cover boxes/canisters in old pages. These from trash2treasure look simply fabulous! I mean why wouldn't you want to do this?
9. Roll up some pages and make a box or something similar! OK, so you could do this the easy-but-flimsy way, where you follow a tutorial meant for card and et voila! one flimsy box. But oh no. There is a better way; try making 'magazine boxes' with The Artful Crafter. These are truly beautiful. Then there is the stunning reed box, colour coorindated too (so you'd need to spend some time seraching the pages for the right look) with craft stylish.
10. And finally, if in doubt, recycle! Everywhere now has paper recycling, so please if you run out of enthusiasm for crafting, then give a tree a bit of extra life by putting your paper in your recycling box.
There are tonnes of ideas out there, and these are just a few that appealed to me.
Let me know what you think... leave a comment or send an email to passthecaffeine {at} gmail {dot} com